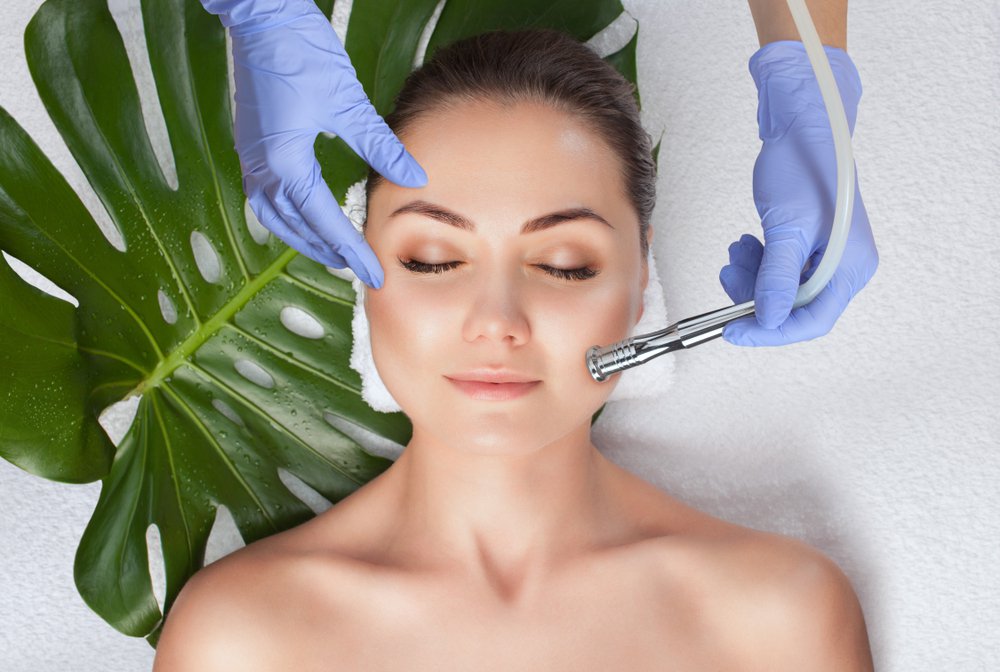 Clogged pores, uneven pigmentation, and acne scars can be difficult to deal with. You might have tried every trending skin care regimen in the book, breaking the bank in the process. Microdermabrasion can solve these problems almost instantly. This non-invasive procedure improves cell production, increases blood flow, and enhances skin elasticity.
What Is Microdermabrasion?
Microdermabrasion is a minimally invasive cosmetic procedure in which a small, handheld applicator removes the top layer of skin. By removing this skin with the applicator's abrasive surface, it promotes quick cell regeneration, resulting in a youthful, even skin tone. There are two types of microdermabrasion, as there are different tips used on microdermabrasion devices. The two types are:
Diamond Microdermabrasion - This is a newer type of microdermabrasion, and is typically used around sensitive areas like the eyes. A wand with a diamond-encrusted tip exfoliates skin while suctioning off dead skin cells.
Crystal Microdermabrasion - This is the most common type of microdermabrasion. Fine crystals, like aluminum oxide and sodium bicarbonate, are gently sprayed onto the surface of the skin and dead skin cells are suctioned off at the same time.
Benefits of Microdermabrasion
Microdermabrasion has many benefits for the skin. A reason for its popularity is how versatile it is, as it can be used to treat a wide array of skin problems. For instance, microdermabrasion can improve the appearance of:
Acne Scarring
Hyperpigmentation
Stretch Marks
Fine Lines and Wrinkles
Sun Damage
Multiple sessions of microdermabrasion may be required to achieve desired results, but improvement is visible after every session.
Can Microdermabrasion Help My Acne Scars?
Microdermabrasion can improve depressed acne scars, which cause pits in the skin. The treatment is best for depressed acne scars that lie flat against the epidermis, as opposed to ice pick scars that go deeper into the skin than other acne scars.
Microdermabrasion is also helpful for those with active breakouts. The procedure removes dead skin cells that clog pores, as well as oil and sebum from your pores, resulting in clearer skin. The exfoliating nature of microdermabrasion removes skin from the surface, getting rid of surface level acne scars and giving you clearer skin. After several treatments, your acne scars will fade and your skin will take on a permanent, even tone.
Why Should I Choose Microdermabrasion For My Acne Scars?
Microdermabrasion is the safer option as opposed to the more aggressive dermabrasion. This minimally invasive procedure often doesn't even require numbing cream, as it causes little to no pain. You will likely not experience any uncomfortable side effects; at most you could have a bit of redness after. People of all skin types and tones can benefit from microdermabrasion and see better results.
You may have thought you had to live with your acne scars for the rest of your life, but you don't! Microdermabrasion is a low risk procedure with high reward, giving you permanently healthier, clearer skin. If you are interested in microdermabrasion, the experts at James K. Cardi M.D offer microdermabrasion treatments for all of your skincare needs.
If you have acne scars, let the medical aesthetic team at James K. Cardi, M.D. help. Dr. Cardi is highly experienced in helping patients achieve a variety of skincare and aesthetic goals. Not only do we provide microdermabrasion, we offer chemical peels, body sculpting, and much more! Request an appointment online or call our office at (401)- 440-1977 to set up an appointment.